Online MS in Computer Science
Learn More Today
Complete the form below for detailed course information and to be contacted by phone and email.
NOTE: * REQUIRED FIELD
Master Current Technology Trends and Emerging Disciplines
The MS in Computer Science online program provides the foundational knowledge and advanced skills you need to stay at the forefront of computer science innovation. It requires just 30 credits and can be completed in two years at an accelerated pace.
Featuring an application-oriented, industry-informed curriculum, this program gives you the relevant experience you need to meet the global demand for computer science experts and apply what you learn across industries. Customize your studies by choosing from a range of electives and solve real-world problems while building skill sets employers want.
Through practical, application-oriented learning, this program gives you the expertise needed to meet the goal demand for skilled computer science and data analysis professionals.
With a 100% online, asynchronous format, the MS in Computer Science program offers working professionals like you the flexibility to complete an advanced degree while meeting work and life demands.
This program has a wide range of elective options built into the curriculum, allowing you to customize your studies and build specialist knowledge in artificial intelligence and data science, secure computing and networks, or general computer science.
Our courses incorporate industry data so you learn to solve real-world problems, immediately applying the knowledge you gain and building relevant skills for success in your chosen professional path.
Entry requirements
Bachelor's degree in Computer Science from a recognized university. If your bachelor's degree is in a related field (Engineering, Computational Physics, Bioinformatics, Mathematics, or IT Management), you may be required to complete a free preparatory course on data structures essentials.
This program is taught in English. Applicants from programs where English is not the language of instruction must submit proof of proficiency by passing either IELTS, TOEFL iBT, or Duolingo English Test with the minimum scores respectively of 6.5, 80, and 115.
Tuition Costs
The total estimated cost of tuition for the program is $15,000 USD. This can be paid in full or in installments.
Start Dates
January, March, June, September, and October
Duration
2 Years
Career Opportunities
Gain the skills needed to qualify for management-level careers in roles like:
Computer network administrator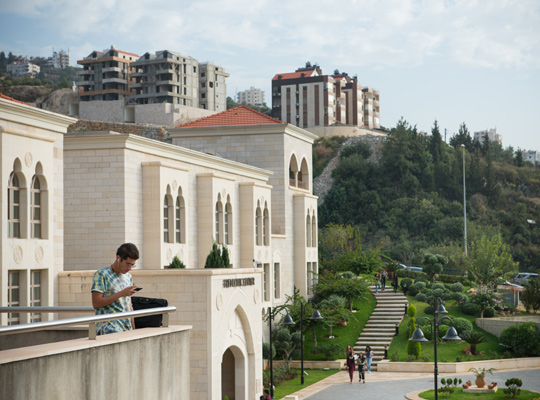 About Lebanese American University
Founded in 1924, Lebanese American University has evolved tremendously over the past 90 years and emerged as the most innovative and progressive university in Lebanon. We empower students to find their path to success through a commitment to academic excellence. Our distinguished faculty and diverse student population create a competitive and caring community that spans the globe.
The University operates under a charter from the Board of Regents of the University of the State of New York and is accredited by the New England Commission of Higher Education (NECHE).
Related Programs
2 Years Duration | 30 Credits | $15,000 Total Tuition
No previous AI tech experience? This program is designed to introduce you to the latest tools and help you excel as a leader in the field. Explore data science through the lens of application and gain experience working with the latest AI tools.
More Info
6 Month Duration | 9 Credits | $4,500 Total Tuition
Learn to detect criminal activity and utilize the latest technologies to protect organizations.
More Info
6 Month Duration | 9 Credits | $4,500 Total Tuition
An online certificate program designed to teach students the fundamentals of AI, data science and machine learning and prepare them for practical work in the field.
More Info
Request information and discover what a degree from Lebanese American University can mean for your career.
Learn More